Why are children born in 21st century still using a static two-dimensional map invented in 16th century?
To update our perspective in a global age, we launch Tangible Earth, the world's first interactive digital globe, and its compact version "Sphere"(the current model).

Tangible Earth has been exhibited at UN headquarter (Geneva/NY), G8 Summit, museums around the world (Copenhagen, Amsterdam, NY, Doha, Tokyo), Roppongi Hills (SDGs Museum), etc. It was also presented at the WEF forum, UN conference, Global Philanthropy Forum in Silicon Valley SF, etc. (See HISTORY page)
Its compact version "Sphere" (launched in 2019) is currently installed at museums, universities and schools in Japan, such as The University of Tokyo, Nagoya University, NHK, Minato Science Museum (Tokyo), etc.

Sphere, a compact version of Tangible Earth, represents various features of our planet such as real-time cloud distribution (updated hourly), live cam images around the globe, the global migration of birds and whales, continental drift, global warming simulations, SDGs-related data, etc. on its acrylic hemisphere dome (60cm in diameter) .
English translation is available for all the contents with Voice Synthesis function. You can interact with the globe by using a trackball or Voice Recognition function.
What can we see on SPHERE?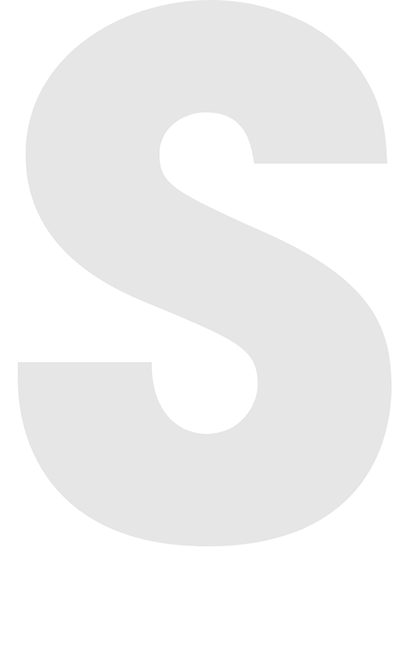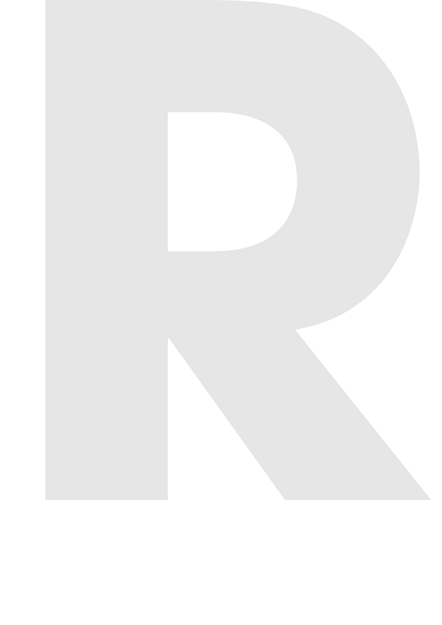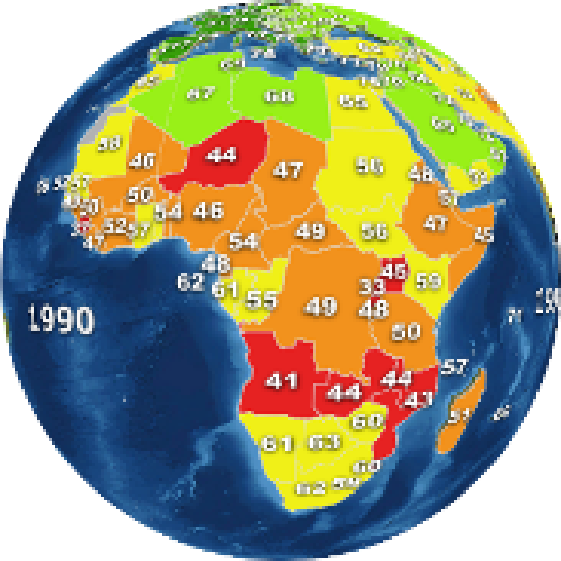 SDGs (Sustainable Development Goals)
SDGs-related data such as Infant Mortality rate, Malnutrition, Poverty index, Gender Equality, Improved Water Access, etc. are shown in the form of the animation over the last decades.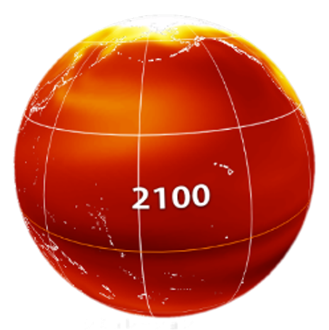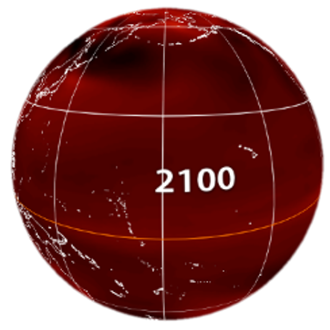 Present situation of the Earth
Rapid population growth, booming Mega-Cities around the world, trans-border contaminants (air pollution, marine debris), diminishing polar ice, increasing wild land fires, drought and hurricanes, etc. are shown in animation. If you compare 2 different simulations of global warming (projection based on IPCC emission scenario; RCP8.5/2.6), you will find that we can change our future by our choice and action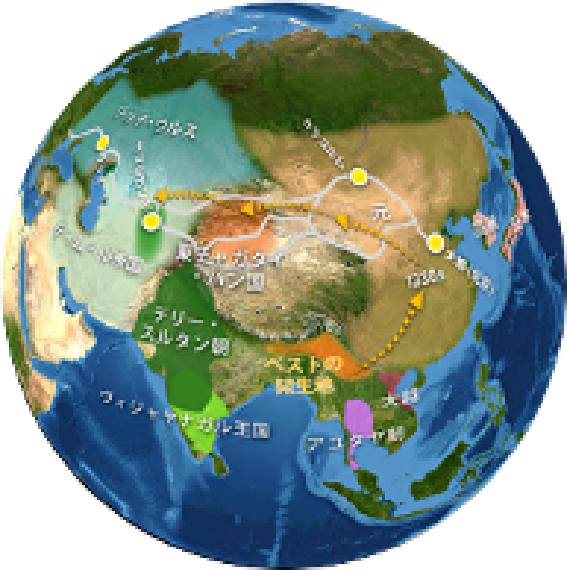 We now have augmented time perspective ; we can imagine Deep Future by reflecting on Deep Past. The Great Journey of Sapiens over the last 60000 years (with the racial diversification according to the climatic conditions), the Agricultural Revolution under the rapid climate change (Younger Dryas period), Pandemic in 14th century (Plague) and current H1N1Flu, COVID19, etc.
Learn from the past to broaden your imagination toward the future.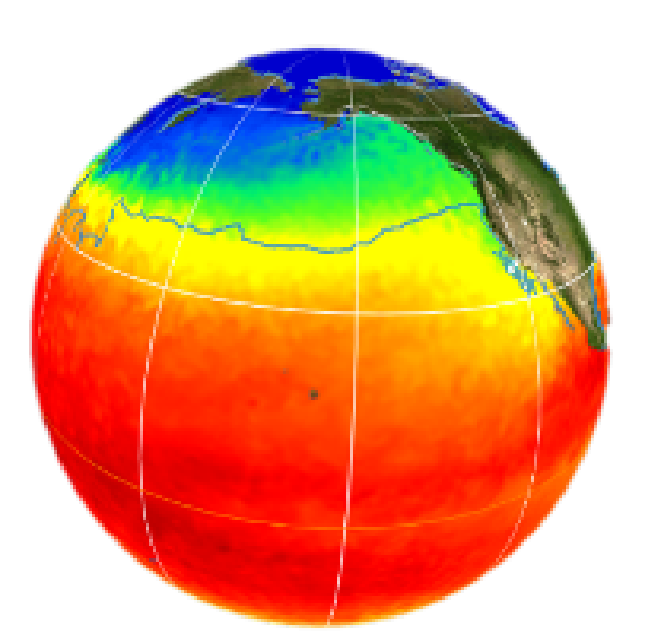 Update your knowledge (and the way of teaching) on geography, geology, environment and biodiversity, by browsing the dynamic representation of continental drift over the last 500 million years, earthquake and tsunami events, swirling air & ocean currents, birds'migration, etc. You can also enjoy various satellite images of Earth's surface, using a Magnifying Glass function on Sphere globe.
The satellite image of the global cloud distribution is hourly updated through the net, with the constantly updated weather map and the projected hurricane trajectory.
You can zoom in on specific sites on the globe. If you call "London" (with the Voice Recognition function) in the afternoon in Japan, for example, you will see the live cam images of London in the morning (time difference about 8h).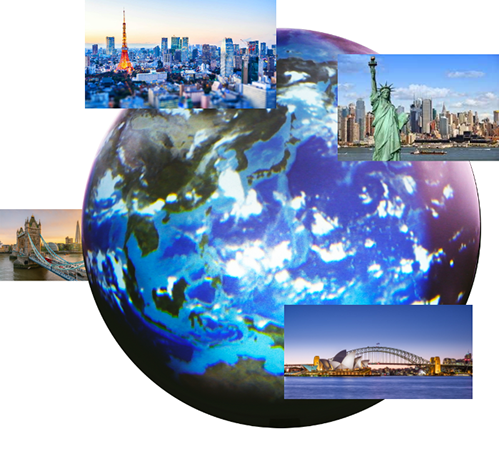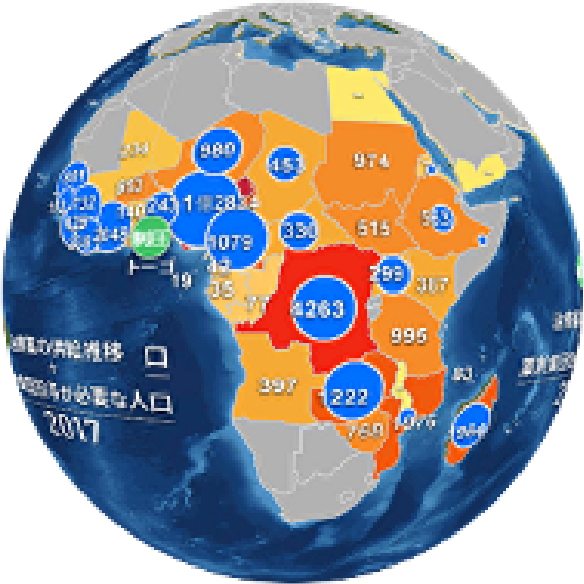 Additional original content can be installed and shown on Sphere globe, on your request.
Companies' branch location and projects around the world
Academic research data (ecosystem, climate, etc.)
Supplementary geographical data (for school teachers)





■SPHERE( Diameter: 60cm, Weight: 7kg)
The image is projected on a light-weight portable acrylic sphere.
:*Projector size: 296mmx120mmx221mm
■Microsoft Surface Pro (292 mm x 201 mm x 8.5 mm)
Explanation of contents are displayed here.
■Track ball
Rotation controller.
■PRICE
10,000 USD

(+ shipping cost)
Academic Price (for Universities & Schools);

9,000USD